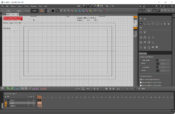 With CACANi, you can draw and paint your animations in a much shorter time, thanks to the app's intuitive and unique features, such as inbetweening, that will make your job much easier.
It's easy to be creative today. That's mainly thanks to the wide variety of tools and software we have at our disposal.
We can consider ourselves lucky to live in such a time when creative tools are available to almost everyone worldwide as software programs. And in the last 15 years, this software has progressively advanced each year.
These will still help, although the app will make the difference, which will give you some amazing tools such as inbetweening and some other tools that can make your process more streamlined, faster, and more intuitive.
Faster Coloring
Mind you, when you open CACANi, you might be overwhelmed by the number of options you must make in this tool first. You'll have several sub-menus to choose from, which can be quite intimidating if you don't know the app yet.
But the good news is that it won't take long to get used to it, and you'll be able to master it quickly.
One of the best features that will help you save time with this application is the automatic painting option and the automatic inbetweening.
It means you won't have to paint every part of your animation – instead, the app will detect the previous coloration patterns and make the coloring for you based on the last painting patterns.
Of course, you can limit this auto paint to a set number of frames, giving you much control over your painting.
You can then preview the application directly to see whether the changes made by the app suit you or not.
Conclusion
CACANi is an application that will help you draw animations easier and quicker thanks to its smart features.