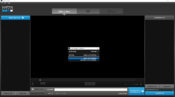 GoPro Studio can allow you to import your GoPro media files. If you have GoPro media files, this application can ease your daily activities.
Moreover, you can playback your videos, create high-quality videos, and time-lapse the photo sequence. GoPro Studio also provides you with the template to make the editing of your videos easier.
These templates are drawn from the GoPro videos. The slow-motion impact, edit points, and music has already been provided in these templates. So, you need to add your clip to get the revised version of the video clip.
It also supports scratch editing. In this version, you can add music, trip the video, add audio, mix clips and utilize the other features provided by the application.
Although the presence of these templates is to ease your process of editing, the case if you don't like these templates, you can forgo them and edit your video from scratch.
You can even export your time-lapse photo sequence by using this application. Moreover, enabling fast or slow motion into the videos is not a problem.
This app also allows you to export the still frame of the video at the maximum resolution. Thus, you can get the best quality image without any effort.
GoPro Studio can provide you with ultimate features when dealing with GoPro media files.