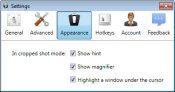 Monosnap elegantly integrates into a single solution screen capturing tools, screencast shooting features, sharing facilities, and simple editing functions. Whether you need to capture the entire screen, a window, or just a given area, this software has the required tools. Do you need to enlarge a selection of the screen?
Taking screenshots is one of the main tasks for many people that use computers daily. This process can be rather long and time-consuming because, sometimes, it's more than just taking a screenshot.
Often, it comes down to adjusting the screenshot and making sure it only captures the part of the screen you want it to. It's a useful application that will help you take screenshots of your entire screen or just a part of your screen.
Besides, this app can help you with tasks such as taking photos with your webcam or recording your desktop.
Modern and Lightweight
You'll be pleased to know that Monosnap has a lightweight interface suited to modern standards. If you don't use the app for some time, it will go to the system tray, and you can always access the app from there.
Once you do that, a small pop-up window will appear, allowing you to take screenshots and make changes.
Take Screenshots and More
The main use of this app is to help you take screenshots of your screen. You can designate a special combination of hotkeys to help you take shots with just one button.
Moreover, you'll then be able to make smaller modifications with this app. You can resize and crop images, insert various elements, rectangles, lines, and ellipses, use the pen and blurring tool, and more.
You can also record your desktop with Monosnap and record your webcam's feed. It can be a versatile tool if you want, as it has many different uses.
You can save your footage in different formats like PNG or JPG.
Conclusion
To conclude, Monosnap can be useful for taking screenshots, and it's user-friendly, lightweight, and relatively easy to operate.