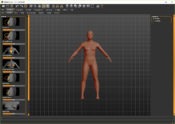 MakeHuman is an application that will help you build 3D human models with the help of certain editing tools by adding various characteristics to them so that you can use them in animations or video games.
It's not easy to create a realistic human model, especially if you need to create one you'll use in a video game. And if you don't have the right tools for your job, this becomes even more difficult than usual.
To create realistic and good 3D models, you'll inevitably need to use a good piece of software.
That's when MakeHuman comes into play. It's an effective software piece to help you create human 3D models with an intuitive interface and deep editing tools. You can use it to develop human models for video games or animations.
Easy and Intuitive to Use
The installation is quite lengthy, and it might take a while because it needs to install several textures and complex pieces of software. But you'll be pleased to know that the interface is extremely beginner-friendly. It's quite intuitive and somewhat minimalistic, too.
All the functions you'll have to use will be organized into several tabs. If you have some experience with creating such models, then using MakeHuman should be a breeze. But even if you don't know, you'll be able to find your bearings as long as you have some knowledge about the editing tools inside.
Detailed Human Model Creation
The interface has some fantastic and deep editing tools. You can start with the gender and age of the model and the weight and height. You can edit some details, such as eyebrow characteristics, chin details, etc.
You can edit facial expressions and much more. In terms of clothing, you'll also have some nice editing options. There will also be accessories and other tools you can use.
Conclusion
MakeHuman is a deep human model creator that lets you use some great editing tools for creating your models.