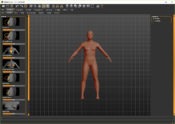 Game developers need special tools to do their work, and MakeHuman is an application made for developers who want to build up human characters from scratch.
With this tool, you can build three-dimensional human models, and all of the models you create can be used in the game you are developing.
The sad thing about this tool is that the installation process takes longer than you expect, but after it finishes installing, you can make a human who has all of the physical characteristics you want.
MakeHuman includes a lot of textures and elements which you can use. This tool is used for making the details you want, so the human you are designing looks the way you like. You can do multiple things in this app, such as adding your human`s age, gender, or even looking at the small details like the eye characteristics.
The big library of accessories is there for you to use, and it is possible to select almost everything you want from it to make yourself the perfect human you need in the game you are developing. Even the facial expressions can be modified the way you want to fit the project you are doing.
It is quite an easy job to customize everything in this MakeHuman, and you can bring your character to life as you are working on it.