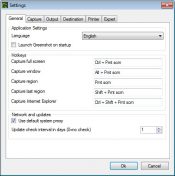 Greenshot allows you to take screenshots of your screen using a key of your choice or by using the tool's main interface, and then save them to your drive or share them with other people or on your website.
If you need a simple and effective solution for taking screenshots quickly, Greenshot can be an excellent option.
It is an effective application for taking screenshots quickly using just one keystroke or a combination of keys of your choice. It also comes with a simple interface to set up the keys and enable the screenshot-taking process.
Available in the System Tray
Once you've first set up the application on your computer, you'll see that it's a simple and small application. It won't take up a lot of space on your computer, and once it's installed, it will minimize to the system tray.
When you need to take a screenshot, you press the selected keys for taking screenshots.
If you need to open the app, you have to click on the icon in the tray. You will customize the screenshot-taking process and specify which keys or which combination of keys will perform the screenshot-taking process.
Take Screenshots and Save Them
After you have selected which keys will take the screenshot, you can start taking them with ease. After that, you will be prompted to choose where you want to save your screenshot and select the format you wish for the saved screenshot.
It's a simple process that also allows you to customize some parts of the process.
You can also decide on some minor settings, such as if you want to include the mouse cursor in the screenshot or not. You can select to have a time stamp on the bottom of the screen if you wish to and some other settings that come inside this neat tool.
Conclusion
To conclude, Greenshot is a simple and effective tool to use to take screenshots and share them with other people or save them wherever you want.