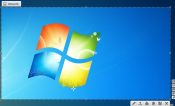 LightShot allows you to take screenshots of selected areas of your monitor so that you can edit or print that part of the screen with ease, making it super easy for you to take screenshots in just a flash.
Screenshotting may not be considered essential, but for some users, this feature is one of the most widely used features daily. It is used by professionals and people who want to take screenshots. However, the integrated Windows screenshot-taking tool is not very intuitive to use and edit screenshots.
To make your life easier by taking screenshots, you can use LightShot. It is a lightweight and intuitive application that makes it easy for you to take screenshots of just a part of your screen and then edit the screenshots with ease.
It allows you to assign a key on your keyboard for taking screenshots, and then you only need to select the part of the screen you want to take the shot.
Simple to Use
It all boils down to pressing one key and adjusting the part of the screen you want to capture. You'll need first to assign which key you're going to use to take screenshots.
For most people, it's going to be the Print Screen button, which is the default option. You can always change the selected key for taking screenshots in the settings.
Once you've selected the shortcut key, then you can start taking screenshots. To take one, you need to press the key, and then the application will prompt you to select the area of the screen you want to capture. You can move the borders around freely with the mouse, which will save you a lot of time.
Editing Functions
What is more, you'll also be able to edit the screenshot with this application's tools. The main window is hidden in the system tray, and you'll need to open it to start editing your screenshot.
Conclusion
LightShot is an excellent solution for taking screenshots. It has everything you need to take them quickly and edit them at the same time.
LightShot features and benefits:
Take screenshot of desktop selected area

Share screenshots via web

Edit your screenshots
Find visual similar images