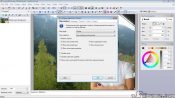 Realworld Paint is a powerful portable image editor that offers professional features and tools. The main uses for this application consist of drawing pictures, retouching photos, and animating gifs. Users can design web buttons, logos, or icons through the intuitive interface, resize, crop, or apply heavy photo modding and even animate simple gifs.
This image editor uses layers to simplify the user experience and provide control over the project. It lets you create vector drawings that can later be imported into other similar programs or be used for print or web. Animations are also easy to build using the animation editor available at the bottom of the screen.
Another great thing about Realworld Paint is that it can import files from other programs such as GIMP, Photoshop, or Paint.net. Users can import and export multiple files simultaneously, saving time and resources.
Because of its small size, it is quick to install and ready to use in no time.
RealWorld Paint features and benefits:
Use layers and styles
Design vector illustrations
Make animations
Modify your photos