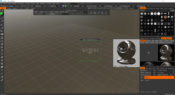 3D Coat is a texturing and digital sculpting program. It uses advanced manipulation of polygons to make sculpting tools. You can morph, create UV maps, and more. It is friendly enough for beginners, yet it offers a set of features fit for professionals.
It can fit into your workflow so that you can complete the work on your plate with 3D environments and models.
Import 3D Models
You can import your 3D models with ease. You can take an already-created one or make your own from scratch. It means that even if you created your model in another app, you can import and use it here.
Voxel Objects
It is important to have your voxel objects ready to edit. It prepares them, so you can start sculpting with minimal downtime.
UV Abilities
There are various high-resolution details that you can use. You can use UV unwrapping and even mapping, displacing the texture.
It is a detailed process usually, so being able to do it easily is a huge time saver.
After that, you can put your polygon skin over the layering and continue to edit it. The physical rendering is infused to the textures up to 16k.
Digital imaging is akin to Photoshop, with advanced features and mapping.
Summarizing
The 3D Coat was quite impressive to test out. We found that advanced layering and sculpting were the best features of the entire application. The ability to edit your 3D models like you would edit 3D in Photoshop was refreshing and powerful.
Whether a novice or a professional, you could probably gain a lot of value by using it. The free trial means there is virtually no risk to trying it, which we recommend.