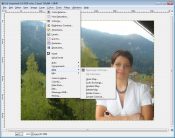 GIMP is an open-source and free-to-use GNU Image Manipulation Program with various tools and features to help you edit and manipulate your photos efficiently.
When it comes to editing images and creating new pieces of imagery, you've probably already heard of Photoshop. It is thought to have some of the most advanced tools on the market, although lately, it has received some great competitors that do the same for a lower price or free. One of them is GIMP.
GIMP is an open-source and free image manipulation tool, or GNU Image Manipulation Program, which is its full name.
It will help you effectively edit your images and do the things Photoshop does, although it does not have all of the features inside PS.
It's an effective solution for those who need the basic tools for free.
Free and Easy to Use
Before you start using this application, you'll need to install it on your computer. The great thing about this app is that you don't have to go through a lengthy installation process, which is much more intuitive than it might appear initially.
Even though it might seem like a complex tool at first, you'll soon learn that it's a lot easier to use than other tools like Photoshop.
For beginners, though, it would be nice to have an introduction or a smaller tutorial, which this tool does if you want. But to use the basic elements inside, you don't need that much knowledge about it.
Process Images and More
The application's main capability is to let you process images, and you can process several of them in batches, too.
You can use various effects and layers that will enable you to get the most out of your images. Some advanced tools will be appropriate for more skilled users, though.
Conclusion
To conclude, GIMP can be a fantastic solution if you're looking for a free image editing tool that will do similar things as Photoshop does.