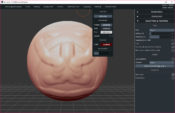 SculptGL is one of the best 3D sculpting options for experts and students. With this application, you can create sculptures and use various features to enhance the artifact's quality.
It is available as a web application and can work without any associated applications and software installed to get it working. It comes with various features. These include brush, inflate, twist, smooth, and drag functions as prominent options.
Additionally, the import of files from different formats, optimizing posts, and the cache's pre-transformation are some technical features inherent in SculptGL.
Multi-resolution sculpting, quad tri subdivision, reversion, and managing both subdivision and reversion together are some of the sculpting techniques you can achieve with this application.
Undoing and redoing the functions performed on the application are also possible, making the entire sculpting process easy.
SculptGL is an application for 3D sculpting that can provide all the technical and digital features to the users to ensure that the best sculpture is produced.