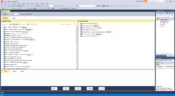 Atmel Studio will enable you to accomplish various tasks to convert your codes into a fully functional program.
You can easily debug the AMR and AVR codes if you choose to use this application. It can allow you to import functional segments of the templates as well.
A Holistic Approach to Application Development
You can expect your projects to be quickly created, tested, and verified in the same environment.
Additionally, the editor is the part of this application that facilitates code writing. You can even initiate the work by selecting one of the templates that cover your needs.
A C++ compiler is also included in the application, which allows you to create applications faster. The C++ compiler further expedites the application creation process, enabling developers to bring their ideas to fruition swiftly.
Enhanced Coding Experience: Atmel Studio's Unified Interface
Similarly, a simulator, assembler, and debugger are also part of the application, making your work easier.
Virtual Assist X extension has also been embedded with this application's features to provide you with everything within the same environment.
Atmel Studio is a tool with a compiler, debugger, and editor to help you create the applications in a more accessible manner.
Conclusion
In the world of software development, Atmel Studio emerges as a dynamic tool that includes a compiler, debugger, and editor and integrates a range of features to facilitate efficient and streamlined application development.
By utilizing its functionalities, developers can harness its potential to create, debug, and refine applications, ultimately transforming code into functional solutions within a unified and accessible framework.