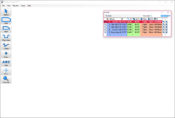 With Estlcam, you can improve or create models in 2D and 3D for your 3D printer. It allows you to load a variety of file formats: JPG, GIF, PNG, STL, DXF, and more.
Versatile 3D Printing
Standard images can be uploaded, which is a huge time saver. Remember that you need a high-quality source image, or won't get the desired result.
Many users use an original design that you can create with custom shapes in the application. It is achieved with either the Spiral Drill or Drill Tools. You can also engrave to get more details on your drawing.
You can even use certain fonts with custom text strings. From the size, rotation, and spacing, you can customize many aspects of it.
Easy GUI
The graphic user interface sure is quite easy to use. There is a panel that makes this a breeze. Remember that the installer is in German, so there can be a language barrier.
The settings are also in German and English. Still, the most important parts are in English. That means you won't need to worry about finding crucial features. You should be able to read any important text for the software's core functions.
Ideally, in the future, they will update the software to have everything be in English or bilingual. It will greatly improve the application and make it a wiser move for standard users.
In Conclusion
Estlcam seems to be a good choice for those enthusiastic about 3D printing. You will be able to fire up the software right away. Once inside, the navigation is intuitive enough so that you can focus on the design.
Then, you can import or create custom shapes, letters, and more. It's surely a versatile piece of software that's worth checking out.