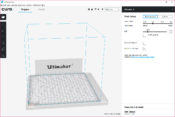 Cura is one of the world's most popular 3D software pieces. It will help you create unique prints almost instantly in a few clicks, as it allows for an easy workflow thanks to the CAD software, or use custom settings for a more advanced experience.
It is an open-source engine that will help you print your 3D creations. It has been built through years of experience from developers who have a passion for 3D printing.
If you have a 3D printer, you'll also need a good piece of software to create your creations. And Cura is among the best pieces of software you'll find anywhere online when it comes to 3D printing.
The Widest Material Choices
One of the main advantages of Cura is the variety it offers. You'll be able to use a wide variety of materials with this tool, no matter what material you prefer to work with. With the Market Alliance, you'll be able to find support for almost any filament you need.
It gives you the advantage over other 3D printing apps, where the selection is not as wide.
Use the Custom Mode for Advanced Settings
If you want, you can create new 3D printing templates in just a few minutes. Or you can use the premade templates that you'll find within the tool. However, the magic comes with the custom tools, where you'll be able to create your unique creations.
There are more than 400 different controls that will give you total control over what you create with this application.
It's also worth mentioning that since this application has millions of users worldwide, it features support for 14 different languages from across the world. It doesn't matter where you come from.
And it's also appropriate for beginners because it has tested templates that have worked for other users before.
Conclusion
Cura is one of the most popular 3D printing software pieces that will help you create amazing creations.