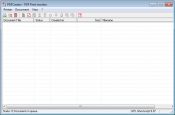 PDFCreator is an application you can install on your computer to help you create PDF documents, print them, and manage them easily with the advanced tools offered inside.
PDF documents are some of the most widely used documents in the world. They're used for various means, including relaying information, creating documents with important data or facts, for work, school, and many other settings.
That's why it's become essential that you have a good PDF management tool.
And that's where PDFCreator comes into play. It is an advanced application for dealing with PDF documents, as it allows you to create documents from scratch, edit them, and then print them once you're done with them.
In addition, it features all the necessary tools that will allow you to create new documents, edit them, and manage them with ease.
Supports Various File Formats
When you first install this application on your computer, you'll notice that there will be a third-party offering on your computer that will prompt you to install an application during the installation. If you don't want that, you can skip the part and pay attention during the installation.
You'll see that after you install the app, you'll export many different file types from the application. For example, along with PDF, you'll be able to create PDA/A 1b, PDF/A 2b, PDF/X, JPEG, PNG, TIFF, TXT documents, and others.
It gives you great versatility when you use this tool for your work.
Use Printer, Share Files
Additional settings and features of this tool include printing the files you create using almost any printer you might have.
It will enable you to export your files and then print them immediately if you need to have them in your hands.
Then there's also the ability to use the help file, which will enable you to get support if you ever feel stuck.
Conclusion
PDFCreator is a great tool for creating PDF documents, editing them, and managing several aspects of these documents. Free for home and office use, this PDF tool will merge documents for you, send e-mails, create professional-looking PDF files, and add digital signatures.