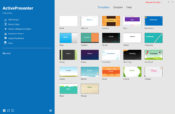 ActivePresenter is a reliable and powerful tool that will enable you to create amazing presentations by adding footage to your screen and inserting various types of files into the presentations.
If you need to do presentations regularly, whether for work, school, or other means, then you know the importance of versatility.
When you want to make as interactive and interesting presentations as possible, you'll want to have as much variety as possible.
That's where ActivePresenter can help you out. It is one of the best tools for adding footage from your screen into presentations.
It allows you to create complex presentations. You can add annotations and tips to the presentations, include transition effects, text messages, audio, and video, and edit the parameters to your liking as much as possible.
Highly Versatile
One of the main selling points of this presentation creator is just how versatile and effective it is at creating interesting and varied presentations. You'll be able to create amazing presentations by adding various pieces of content to the presentations, which can be used for work or school presentations.
It is a very professional tool. The interface might look a bit overwhelming at first, but once you master it, you'll discover the many possibilities.
You can record your screen and insert the recording into the presentation, a unique feature.
Complete Presentation Creator
This presentation creation tool has everything you'll need to create epic presentations. You'll be able to insert screen footage into the presentation, audio voiceovers, and other types of multimedia.
When you add these types of media into the interface, you'll be able to edit them, cut them, and crop them when you need to add them to the presentation.
The application allows you to have SmartCapture. With this feature, you can capture the screen with a simple click or a key. Each click will enable you to capture a slide, which can be merged later to create a video.
Conclusion
To conclude, ActivePresenter is a complete and versatile presentation creation tool. It has many different tools to help you out and the ability to add screen recordings to your presentations.