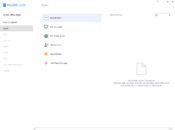 Polaris Office is a suite of tools for managing and creating PDFs or other Microsoft Office documents. It is an alternative to the more widely used Microsoft Office suite.
If you're looking for an alternative to Microsoft Office, then Polaris Office might be a good option. It's a cloud-based service that brings similar features that you'd find in MS Office.
It allows you to connect to all of your devices easily and manage all the documents you might have anywhere you might be.
Cloud-Based Office Suite
It is best suited to those who need a cloud-based environment for storing their files, creating new documents, and syncing them over various devices they might own.
It will allow you to work on your files and documents when switching devices. It's convenient to use if you're often on the go and cannot use just one device for the entire time.
It enables you to switch to other devices without risking losing any progress you've made with your work.
Edit MS Office Documents and PDFs
Some of the main capabilities of the app include the possibility of editing or creating MS Office documents. You'll be able to save the new documents you create in MS Office formats, which allows you to sync the files you work with on multiple platforms, even if you or your colleagues use MS Office instead.
It will enable you to collaborate with others with ease. In addition, you'll be able to easily share your files with friends or coworkers, which you can do by making the file accessible to other users who use Polaris Office or different types of file editing tools.
Conclusion
Polaris Office is a cloud-based service that enables you to edit, create, and manage MS Office or PDF files.