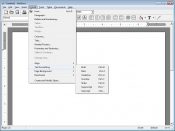 AbiWord suites your simple word writing and editing tasks in the same way Microsoft Word does, but only with a few modifications. One interesting and useful option allows multiple users to collaborate on the same word document simultaneously.
Thanks to an internet sharing platform developed by the same people, you get to easily share & store documents or have a chat with your friends. It can be improved substantially by installing the plug-ins that come with the installer.
As it was created by many people worldwide, this word processor supports various languages while running without any change in many operating systems.