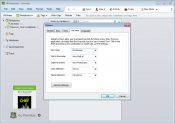 Evernote is your memory extension widget that works on PC, but also on your tablet, phone or directly on the internet. The idea behind this software is to keep everything synchronized, that is automatically copy your notes, web clips, images and files in general on all your connected devices.
The good thing about comes from the possibility of saving everything you see, record, take photo of on a single platform where you can came back and develop a brilliant idea from there.
Whether ones need to do research on a topic, work with friends and colleagues or plan some activities in the future, this app seems to be the perfect memory extension.
Evernote features and benefits:
Keep everything in sync - notes, web clips, files and images
Remember things you like
Save favorite webpages - save entire webpages to your Evernote account

Share your notes and collaborate on projects with friends and colleagues
Keep all of your itineraries, confirmations, scanned travel documents, maps, and plans