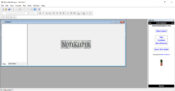 Tolon NoteKeeper is an application that will help you create notes on your computer and easily save them as nodes, allowing you to print out these notes or simply use them when needed.
You'll find various note-taking applications among the most popular productivity programs and apps. Some are meant to be very simplistic and easy to use, allowing you to access your notes instantly.
Others have a bit more depth, as you can use various features to suit your experience with the app.
Tolon NoteKeeper is a combination of both styles. It offers a simple and easy way to create notes and become more productive in life and work.
But it also has quite a complex interface that's also quite dated, but it has some more advanced tools for note-taking. So it's a good combination of complexity and simplicity in some aspects, allowing you to take notes when needed.
Create Multiple Notes at Once
One of the main tools of this note-keeper is the ability to take various notes simultaneously. It's not as friendly as other note-taking tools, although it is a bit more advanced when creating multiple notes simultaneously.
And because you can manage multiple notes simultaneously, the tool has a slightly more complex interface.
You can always choose the app to be visible over other programs. You can also arrange the icons so that your notes are more visible. That allows for a bit more organization as you create your notes.
You can also easily categorize and organize your notes, which justifies a slightly more complex interface. But once you get fully accustomed to it, it makes sense.
Bookmark Notes
Creating multiple types of notes and bookmarking them allows you to manage your notes easily. You can select your font size and font type and customize the notes to make them more visible and make more sense to you.
You can select custom settings on almost any feature of your notes, making it easier to stay organized.
You can also copy and paste information from your notes, which allows you to use them for work or even copy and paste the information to other notes. And once you're done with taking notes, you can easily print them out and even have them organized in your office if you want to.
Conclusion
Tolon NoteKeeper is an intuitive application with some advanced tools for taking notes and for organizing them with a complex interface and some more advanced tools.
It helps you stay more organized and ensure you get more work done as you can see what matters to you and customize the notes so that they appeal to you.