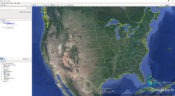 Google Earth is a unique software that allows you to view the entire planet without traveling. This excellent tool will enable you to analyze a particular location's terrains, 3D buildings, and mas.
One of the essential features of this app is that it allows you to analyze the global changes over a decade. By using this application feature, you can find the outlook of your locality a few decades or even a few centuries back.
Additionally, if you want to explore the depths of the ocean and the causes of significant shipwrecks, you can use Google Earth, which provides you with 3D models and detailed imagery of the sea.
You can even tour the entire world through the "touring" feature provided by the application, where you can explore the essential destinations in each country and walk around the local streets. You can even personalize this tour with narration or a soundtrack to be played in the background.
By recording your exploration, you can also share it with your friends. Google Earth provides users with an extraordinary ability to visit and investigate various elements of the galaxy and the Earth.
Users can even personalize their journeys through this tool and share them with their social circle.