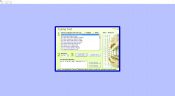 Do you often type in Hindi and English? Then you will almost certainly like this app – it will help you increase your typing speed and minimize the errors you make when typing in those languages.
Sonma Typing Expert allows you to learn to type like a pro in English and Hindi. It will also provide the necessary exercises to master your typing skills and become more proficient in both languages.
This application is perfect for you if you are a bilingual speaker of English and Hindi or if you speak one of both languages.
Easy Installation
The good thing about this application is that it takes a very short time to install and is not complicated at all. However, newbie users might encounter a smaller problem once the installation is done. Namely, this app doesn't include all the Hindi fonts in its interface, and you might need to download them separately and install them that way.
Luckily, the application has several help files showing you how to do that. Once you've taken care of that, this tool is relatively straightforward.
A Variety of Exercises
Sonma Typing Expert will help you become an expert in typing in both English and Hindi. The exercises will lead you from being a beginner in typing to becoming a pro in both languages.
You'll start by learning the anatomy of a keyboard and where all the keys are, and the exercises will become increasingly tougher to help you progress easily.
You can also set how long you want to study. The default option that Sonma has is 15 minutes, but you can extend your learning time far beyond that.
In fact, you can easily set up learning goals for yourself and determine how long you want to study.
Conclusion
Sonma Typing Expert is a great tool for learning to type faster in English and Hindi. It will offer exercises to help you go from a beginner to a typing pro in both languages.