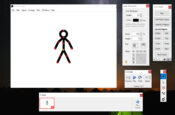 Stykz is an animation software application that will help you create and design awesome stickers with the help of both basic and advanced features and options and a helpful guide to get you started.
Creating presentations on Youtube or various graphical representations is becoming increasingly sophisticated. Basic and stock images won't do any longer – the more personalized you can make your presentations, the more you will stand out.
With Stykz, you can create amazing and custom presentations that you will create via custom animations you made with the tool. In it, you can draw, design, and develop stickmen, for example, for your presentations.
It comes with various drawing and editing tools to help you create some of the best presentations.
Dedicated Drawing and Editing Tools
Stykz is known for being user-friendly but has many features and tools to get you started with animations and graphical designs. You'll have both the basic drawing and editing tools at your disposal and more advanced tools that you certainly can't miss if you're looking to go more in-depth.
The interface of the tool is based on multiple frames. The first frame is the default, with the stickman in the default mode. You can then start tinkering and changing this stickman, where you can change the anatomy of the stickman, move pivot nodes around, reconfigure segment positions, and drag the stickman so that it looks the way you want it to.
You can use these frames to create smooth and awesome animations. Each new frame will duplicate the last frame you've created so that you can make subtle changes that will make the animation smooth and seamless.
Overall, this tool is great for creating awesome animations that you can use for Youtube videos and other presentations.
Conclusion
Stykz is a drawing and editing tool for creating animations with stickmen that you can use for presentations and Youtube videos