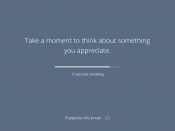 Are you working on your computer all day? Stretchly allows you to remind yourself to take a break now and then, thanks to a minimalistic interface that helps you ensure you get enough rest and are ready to work again with a fresh mind.
An Assistant To Manage Your Time
Stretchly is a simple application. All it does is remind you to take breaks now and then. You can define when you want to take breaks and how long they will be and allow it to send you notifications when necessary. But the role of Stretchly can be powerful if you follow its advice and schedule and use it effectively.
Working at computers for longer periods has a long and well-documented history. Staring at the screen makes your eyes feel sore, you get headaches because of it, and your posture begins to suck.
All of this can be avoided – at least to an extent – by taking regular breaks between work so that you can stretch your legs, get your mind together, and get back to work feeling fresh.
A Lightweight Program That Helps You Take Breaks
Stretchly will not take up a significant portion of your resources. It's a very simple app that you can use in just a few seconds. All you need to do is do some settings to help you take breaks at your desired intervals.
The application will then sit in the system tray, counting the time until your next break. And when that comes, it will promptly remind you.
You can pause the timer if you want, and you can also easily close it. However, the application will send notifications displayed above all other applications you might have opened. Closing this notification is easy and possible, too.
It sends you reminders and gives you advice on how to take breaks, health advice, and what to do during breaks. For example, it might show you how to stretch your body.
It can also give you exercise suggestions so that your breaks will be as effective as they can be. You can also tailor the app to your needs as much as you want, as you can define when it reminds you to take breaks.
Conclusion
Stretchly is a simple application that will help you take breaks more often.