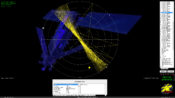 If you're an amateur radio operator or lover, you'll love the look of Orbitron, a satellite tracking tool that will mostly help amateur radio operators or observers.
For amateur radio operators or observers, some of the most important parts of their hobby or job have to do with satellites. If you want to get a good connection and use all your features, you'll want to have more information about the satellites near your location.
But you'd need a good satellite tracking tool for that.
And that's where Orbitron will come in handy. While it might seem intimidating and hard to use at first, you'll see that it doesn't take long to get used to it. And that also means that are some pretty advanced tools inside the interface.
But for amateur purposes, this application offers more than enough.
Track Satellites
The main part of this tool is satellite tracking and all the features connected to that. You'll be able to see the satellites in real-time while also being able to track them.
You can select the satellite's desired location, zoom in and out, pick a location center, and define a satellite on the map you want to track.
Access a Large Database
What is more, you'll also be able to select from the satellites inside the large database of this application. From there, you can load up to 20.000 different satellites depending on your position.
There are also information stats about cities and satellites and their frequencies and dedicated tools for syncing the PC via NTP.
As for the resolutions supported, you need to know that this application will support resolutions from 640×480 and has a full-screen mode.
There's also a separate Windows screensaver that you can use if you have this application.
Conclusion
Orbitron will come useful to amateur radio operators who need to access a large database of satellites around them. At the same time, it's also a good application for various observers.