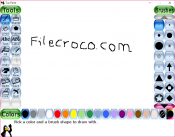 Tux Paint is a drawing program designed specifically for children and beginners. It has a big collection of starter images and a great toolbox of simple tools that allow kids to learn the basics of drawing on the computer.
If you're looking for a fun application that will allow your children to learn how to draw, this tool is one of the best.
It has a very user-friendly interface and a collection of simple tools that makes drawing fun, and it takes the pain out of the process. It's perfect for learning new drawing concepts and fun at the same time.
It's safe to use, and there's no danger of your kid changing the settings with the tool. With the separate Configuration window, these settings are kept secure from the children and locked away so that only the parents can access them.
A Collection of Simple Tools
Tux Paint is a great application if your kid is just getting started. It has access to some of the most, only simple tools, but there are many slightly more advanced tools, too.
When your kid learns the basics, they can also try out the special effects and see how they work. These include tools such as brushes, penguin figures, and shapes (square, triangle); you can also access various fonts and test them out in the app.
The special effects included are bricks, cartoon chalk, color shift, distortion, darkening, embossing, and fill.
The entire process is made easy with the "undo" and "redo" functions. Even if there is a mistake, it can be corrected easily with a click of a button.
A Separate Configuration Panel
Since this program is designed primarily for kids, a configuration panel will be placed separately from the program itself. It means your child won't be able to access this panel, which can sometimes result in unwarranted changes. The parents can only access this configuration panel if you set it that way.
In this panel, there are several crucial settings that you can configure. You can set up the video and the audio settings of the program, and you'll be able to adjust the screen size, disable sound effects, or select the window size.
Then, you'll also be able to configure your keyboard and mouse, where you can easily set up keyboard shortcuts and make changes to the mouse settings.
Other configurations included in this configuration panel have language settings, printing options, saving options, data preferences, and different settings.
At any time, you can restore the settings to default if you think that something's been changed that should not have been.
Conclusion
To conclude, Tux Paint is one of the best drawing programs for kids. It allows them to learn basic drawing concepts and grasp how some basic drawing tools are used. It's safe to use and has a separate configuration panel for easy use.