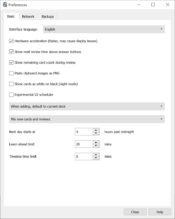 With Anki, you'll create memorization cards that will help you remember the things you're studying and remember things that you might forget quickly otherwise.
Studying and learning involve using a lot of memory, but that can be a struggle for some learners. If you don't know how to organize your data and information, it can be very hard to memorize the most important facts.
Luckily, some great memorization tools will help you keep your info organized. One of them is Anki.
This application works in such a way that you'll create memorization cards, with the help of which you'll then remember more things. It has all the features you'd need to memorize the most important facts and stuff, and there are also some customization tools to help you do better.
Memorize More
This application is a card-creator tool. You will create cards of information, especially the information you want to memorize. These cards will be stored on your computer, and you can also have them pop up on your desktop.
You can create more than 100,000 cards without issues managing them or running the overall application.
Some customization tools will help you remember better. For instance, you can change each card's style to make it more memorable and tie together pieces of information more easily.
Or, you can search for cards based on the filters you've applied to the searches.
Easy to Use
Despite the slightly dated interface, the application is relatively easy to use. At first, the interface might seem a bit too tough to manage, especially if you're new to these tools.
But after some investigation and trial and error, you'll see that it has a very simple usage.
You can add new information to your cards and store them with just a few quick clicks.
Conclusion
Anki can enhance your learning process by allowing you to create cards of information, with the help of which you'll be able to memorize much more.