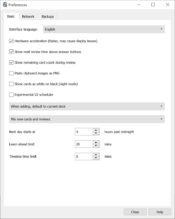 If you need an application to help you learn things more simply then you should consider Anki. It provides you with flashcards based on your customized needs, which can enhance your memory or can lesser the time required for the completion of your study goals.
You can learn different languages, prepare for tough exams, remember the names or faces of people, or learn long poems. Anki can work on different browsers and different operating systems, so you can keep the learning process continued everywhere. You can get the same flashcards across multiple devices because synchronization is amongst one of the major facilities that this application provides for you.
You can create more than 100,000 cards without having any issues in managing them or running the overall application. The layout of the card can be easily customized providing you with the option to customize them according to your needs. Moreover, the review timing of the cards can also be changed.
It supports audio clips, images, and videos quite efficiently. Moreover, you can utilize some add-ons available to make your flashcards handy and appropriate for learning purpose. Although Anki is an open format application, you must be sure about the safety of your important data.
Anki provides you with a flashcard based learning application, which can allow you to handle any subject or any topic with great ease.