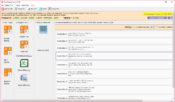 Want to improve your typing speed? Then you can use the Soni Typing Tutor, which can help you improve your typing speed and accuracy in the form of a wide variety of exercises and tests that help you develop a fast typing style.
Typing is a practice that's a welcome skill for work or leisure. Learning to type quickly and accurately will help you save time and get more work done – it's even a necessary skill for some jobs. And typing is learned through practice because the more you type, the faster you'll do it, and your accuracy will also improve.
With the Soni Typing Tutor, you'll be able to learn how to type faster and more accurately. It's an interface that will provide you with some exercises, tips, and tricks, as well as tests that will help you improve your typing speed and accuracy.
You'll learn through lessons and then by doing exercises that are inside the app. After some time, you'll also solve tests to see how you progress.
Improve Your English and Hindi Typing Skills
First, we must mention that this application only supports two typing languages: English and Hindi. Luckily, English is a language that almost the entire world uses to be useful to virtually any user.
The great thing about this app is its simplicity. It's aimed at beginners who are looking to learn from scratch. It is seen from the lessons, exercises, and the app's interface. It is not too complicated, even if you consider yourself a beginner.
You can assess your typing level to take your first tests when you start.
Typing Exercises and Tests
As mentioned, most learning will be done through exercises and tests. There are some lessons to give you some information and tips, but you'll need to learn on your own to be even more effective.
The lessons will show you some important tips and tricks on how to easily use the keyboard to your advantage.
Conclusion
Soni Typing Tutor is an application that will help you learn how to type more accurately in English and Hindi faster.