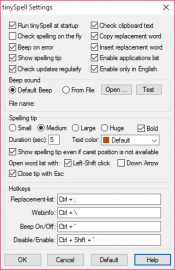 tinySpell is an application that will check the spelling of words in all applications where the text editor option is involved, including sound and popup notifications and exclusion lists.
It will help you check the spelling of words in any application where you can use the text editor. It is a big thing with apps that don't offer built-in spelling-checking software, and when you need to make sure that the spelling of your text is on point.
With this lightweight software application, your spelling errors and small mistakes are gone forever.
Lightweight Application
One of the best things about this application is it's very lightweight. Once you open it, it will run quietly. It will do so if you need spelling checks from the system tray. At the same time, it will send you sound and text popups telling you if there are any errors in your spelling.
You can also use several configurations straight from the system tray, but you'll need to use the app in the windowed mode for a complete configuration. The application is very simple to use, so even beginners can make sense of it.
However, if you still don't know how to use it, a user-help manual will teach you the ropes and familiarize you with the tool.
Simple but Effective Features
As we've already mentioned, this application is very lightweight, so no big-scale features are available. The main one is spelling checking. All you need to do is open the document or the application where you will be typing and start writing.
As soon as you make a mistake, the application will notify you via a sound notification and highlight your mistakes.
You can turn off the sound notifications and only use the highlighting tool to show your mistakes. You can enable or disable functions that you need or don't need.
And for an even easier level of use, you can add words you constantly use into a dictionary, making it easier to remember and use those words.
Various Tweaking Options
With this application, you'll get several smaller configuration options to make your experience even more complete. It will show you spelling tips, check the clipboard text, it will notify you when there is a mistake, and you can set everything up as you want to.
You can tweak the application so that it runs at Windows startup, or you can set it in such a way that you open it manually.
You can select whether it will show small spelling mistakes or only the big and obvious ones.
You can assign hotkeys for replacement options, which makes your life much easier if you want to replace certain words you missed.
Conclusion
tinySpell can become an important app if you deal with text every day. It will help you perform spelling checks and correct any mistakes you might make.