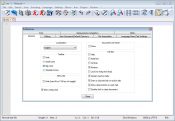 Notepad++ is an improved and enhanced version of Notepad that is most suitable to developers and coders. It acts as a source code and text editor that can be used for various programming languages.
If you're a programmer, then you almost certainly know about Notepad++. It's one of the most widely used tools for programming, as it acts as a source code editor that can work with almost every programming language out there.
It also comes with various productivity tools to help you stay productive and improve your work.
Enhanced Version of Notepad
On the surface, it might appear as an application that is very similar to Notepad on the surface on the first launch.
However, once you dive deeper into the application, you'll learn that it's a much more advanced tool with additional features specifically for programmers.
When you first install the app, you'll want to pay attention during the installation process because you might be offered several third-party apps that you won't use.
After the installation, you'll enter the application interface that will look similar to Notepad, with a few differences. The additional tools you can use are neatly arranged above the main window.
Supports Multiple Programming Languages
Despite its simplicity, Notepad++ is one of the most widely used source code editors, thanks to its ability to cover various programming languages. It supports anything from C++, and C#, to other well-known, commonly used languages.
It also has other features that will help you stay on top of your programming. It features a spell checker for ASCII or HEX keyboard layouts, which is neat if you're using either.
The FTP support needs to be mentioned, which enables you to use FTP for easy integration into your programming environment.
Conclusion
If you're a programmer, then Notepad++ might be one of the best applications that you will use. It's simple and not intrusive, yet it offers everything a programmer would need to complete the job.