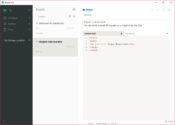 Boostnote is an excellent app that will help you keep and create notes and organize your code snippets easily, as it will allow you to highlight syntax and tag your content without too many problems.
When you're working with a lot of code, one of the main problems is staying organized. It can easily get overwhelming, especially if you have any code snippets you need to add constantly. In that case, keeping the snippets organized and in one place might make sense, which will help you save a lot of time.
You can do that with Boostnote. This note-taking application will enable you to take notes and easily store your code snippets.
It has a stylish and elegant interface that will allow you to take notes quickly and store them and create folders and categories for better organization of your notes.
Take Notes of Your Code
One of the main ways that people use this app is to store code snippets inside the interface. When you have a lot of code to work with, you're expected to work with many code snippets, which can get overwhelming.
Fortunately, this application will enable you to bypass that problem, as it will help you store the snippets and use them easily.
For storing them, you can use the easy interface inside this application. You will start with the manual, which is easy to understand and can give you a nice start for using the application.
Take Notes and Organize Them
Boostnote is an excellent app when it comes to organizing your notes. Not only will you take notes efficiently, but it will also allow you to store and organize them easily.
You can manage them using colors and tags and create folders that will give you a lot of organization.
Conclusion
Boostnote is a useful application for programmers that have to use many code snippets, as it will enable them to store it easily.