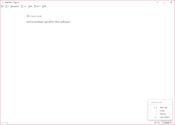 If you work with markdown in any sense, then having a solid editor is key. Often, you find that using a plain notepad or other software just doesn't cut it. In these situations, Typora may be useful. It is a way to edit your HTML and other markdown languages. It goes for web designers, developers, and marketers alike.
Users of different skill levels will benefit from this software in our experience. In fact, you can also convert it to other file formats. The interface also allows for customization, greatly increasing the program's value.
Simple Yet Powerful
The features that are included may seem simple on the surface. However, they provide many options for streamlining your editing and writing procedures.
It has file trees that let you efficiently store your files. You can organize using folders or even cloud storage if you want instead, such as Dropbox or Drive. The software also consists of a particular outline structure.
It means you can quickly extract documents and check them by jumping around as needed with the fewest clicks possible.
Night Option
If you are working at night or want to limit the light coming from your device, you can use night mode. We noticed how it made the workflow more soothing and relaxing, especially for long coding sessions.
There are other themes, as you would expect from a markdown editor, but worth it is salt.
During testing, playing around with the themes was quite fun to see what was there.
Word Count
Depending on what you're doing, a word count can be essential. We were pleased to find that Typora includes one within the app. If you want, you can use Focus Mode to look at the current line and leave the rest blurred out.
It was one of our favorite features, as it helps to maintain focus during longer sessions.
Other Modes
Typewriter mode was also a fun mode to use. It ensures that your current line is in the middle of your PC's window. You can also use a context menu to insert various items you might need.
It includes images, other text, code blocks, footnotes, lines, and more.
Typora is pleasing to work on. It's easy on the eyes and offers enough features for anyone needing a markdown editor.