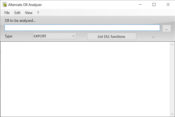 DLL Analyzer allows you to extract data required from the DLL file and paste it on a text file. Additionally, the functions, data, and resources present in DLL files can be used by developers in their programs.
Simply viewing the DLL files might require a lot of your resources. However, this analyzer can conduct this task using your computer's minimum resources. You can search a particular file by specifying the line number, the file's name, and the function.
The command line and graphical user interface can generate the desired function from the DLL. Using the command line format, you have the necessary documentation to help you use the right command.
One of the problems with DLL Analyzer is that you'll have to create separate text files if required to save functions from different categories. So, it might take a bit of your time.
DLL Analyzer is an application to find the specific functions from DLL files while using fewer resources of the system to copy them on the text files.