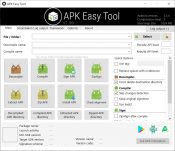 Compile and decompile, modify and manage your APK files as you work on them using APK Easy Tool. Because most people now do virtually everything on their smartphones, attention has shifted to developing suitable apps that will make our day-to-day activities more comfortable and convenient.
This sharp and exponential increase in Android app demand has necessitated the creation of tools to help developers manage their apps on the go. The APK Easy Tool, designed for Android app developers, is robust and lightweight. The application allows a developer to manage, compile, decompile, and sign all the APK files in his project file.
Manage App Updates and Bug Fixing Using a Single Tool
The tool has a user-friendly and appealing interface that allows for easy file selection and a drag-and-drop operation. A developer can quickly see peculiar information related to the selected APK file being displayed on the interface. The information includes:
Package name
APK version
Minimum SDK version and version code
The main window tab allows you to modify the main functions and additional options.
Also, the functionalities of the tool will enable you to carry out the following actions;
APK compiling and decompiling
Signing the APK file
Extracting and also installation of the APK file
Besides, when working on Read-Only-Memory (ROM) files, further changes can be made through the Framework tab. And for audit tray and record purposes, all operations are stored in the log output tab.
A Simple and Easy Application for the Efficient Management of APK Files
One remarkable feature of the tool is that you can easily overwrite an APK file by creating new code and applying the changes using the drag-and-drop functionality. You are hence saving yourself lots of time and energy.
If you manage an app that requires regular updates and bug fixes, then the Apk Easy tool can help you manage your APK files smoothly and conveniently.