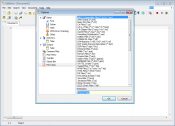 Text Editor Pro allows you to edit HTML files and Python, Ruby, Perl, or Fortran files, which will help you highlight certain syntax parts and other features that other code editors have. It is an intuitive application that will help you edit text and code for more than 50 different scripts.
It will help you highlight syntax parts and other coding apps' important features.
Impressive Graphical Interface
The first thing we notice when we enter an app is its graphical look. And this one is very impressive. It looks great and modern, but it also has a simple interface accessible even to the biggest of beginners.
You can access your most popular tools straight from the toolbar, where the most frequently used actions will be taken.
Support for Over 50 Programming Languages
Another awe-inspiring thing about this editor is the widespread support for coding languages. It is a lot, especially compared to other editors.
It supports the most popular programming languages, including C++, Java, Perl, Python, Ruby SQL, Fortran, and others. But it also supports less popular languages such as COBOL, DOT, Graph Drawing, DSP, DWScript, Foxpro, and many others.
From a drop-down menu, you can select the preferred languages you want to use. You can open multiple files at once and view them in separate tabs. Then, you only need to create a new document, and you're ready to begin coding.
Powerful Editing
Of course, the tool also has powerful editing capabilities, which is essential for an editor like this. Firstly, you'll have the search filters, which will help you locate lines of text within the document. You can also mark text and return it when you need it later.
You can save a draft when you work on documents, which will help you save your work and not confuse it for the next time you need it.
Conclusion
Text Editor Pro is a simple yet powerful text and code editing tool. It has a graphically impressive interface with widespread support for programming languages.