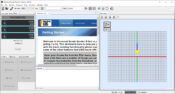 Universal Gcode Sender is a Java-based tool enabling users to send G-codes to machines supported by CNC (Computer Numerical Code).
A Java-Based Application
If you're working with CNC machines, you must know about a program like this. It is useful if you're working with CNC machines. You'll be able to control your CNC controllers, such as GRBL or TinyG.
To run this application, you'll need to have Java installed and updated to the latest version. When you want to launch this app, you need to double-click on the icon to get started.
Efficient Features for Novices and Experts Alike
Of course, CNC programming is a field of its own, and you'll need a decent amount of knowledge to get started. But if you're just a beginner, the good news is that this app will offer you a simple and intuitive interface that will allow you to learn quickly.
You'll also see a Console and Command Table in the main window, where you'll do most of the work.
You'll have all the features you need to operate a CNC machine. You'll be able to remove components, truncate decimal precision to any amount possible, convert G2 and G3 arcs to line segments, and remove whitespaces from projects.
And with the 3D Gcode visualizer, you'll get real-time feedback and control where you can use the table to use your commands.
Conclusion
Universal Gcode Sender is a versatile and powerful application for controlling your CNC machine by allowing you to send G-code commands to the machine.