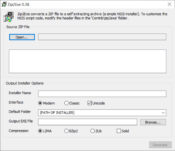 If you are a software developer looking to build the Windows installer for your new program, then you should consider Nullsoft Scriptable Install System.
It is a flexible application, which has been designed in a way that it can work with any internet connection quite easily. Installers can determine the success of any software, so the creation of a stable installer for a particular software is essential and can be managed through this application.
It can easily handle complex logic involved in the creation of installers. Moreover, the overhead of this application is very small, just about 40kb. Additionally, the powerful scripting language is used in the development of NSIS.
The application also supports some plugins. The compression options provided by it are also unique and comprehensive to let the users use it most efficiently. Multiple languages are supported by this application too.
Overall, the Nullsoft Scriptable Install System is a beautiful installer creator for creating reliable and powerful software installers.