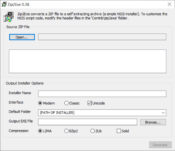 NSIS is open-source and script-driven software that lets developers create installers and use other software pieces to create complete solutions for Windows installers.
NSIS (Nullsoft Scriptable Install System) is one of the best software applications for creating installers and installer environments. It's open-source and free to use, so it will serve you well for everything you do to make installers.
It's a reliable and valuable alternative to similar products, such as InstallShield or commercial programs that cost a fortune.
Simple Script-Based Engine Trusted by Large Companies
It has established itself as one of the leading solutions, even for the world's largest companies. It was initially developed with the Winamp distribution packages in mind, but it has later developed to become much more versatile. It became the go-to choice by many large companies and corporations, such as Google, Mozilla, and Flickr.
The best thing about Nullsoft Scriptable Install System is its minimal overhead size, which is great, especially with simplicity and flexibility. It's easy to see why it has become the favorite option for many larger businesses.
It has a script-based engine will help you deliver on all aspects of creating installers. These installers are used for deploying applications, of course, which is the primary job of an installer. B
but with this tool, you can create installers capable of more –such as extracting files, setting preferences, and uninstallation.
Support for Various Compression Formats
Another great thing about this tool is that it's compatible with various compression formats, such as zlib, bzip2, and LZMA, considered among the most popular formats nowadays.
You will also be able to create multilingual installers with more than 40 different languages included. Some advanced installer functionalities let you expand the whole installer process.
Conclusion
NSIS is a robust and very complete installer creating software with a script-based engine used by some of the world's largest companies.