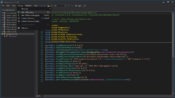 dnSpy is a tool that allows you to manage obfuscated code with many specific tools at your disposal. Any software engineer can get in a situation where you had to decompile specific assemblies to understand the functionality more efficiently.
When you want to understand a piece of code or make changes to the code, you will need to decompile assemblies to access the code you want to alter. This process can be time-consuming, and it can also be quite difficult to do without the right piece of software.
A Tool for Software Engineers
dnSpy is a piece of software that will help you reverse engineer .NET assemblies to do that. It will help you get great results in much less time, and it has a wide variety of tools that will make the entire process even easier.
It's free to download and use, so you can download it now and see if it helps you achieve what you need to do.
Easy to Use and No Setup Required
The best thing about this app is that you don't have to go through a setup. Instead, you can deploy it from your hard drive once you download it, making it highly portable and lightweight. You'll be able to use it on almost any computer or device you might have so that you'll get work done wherever you might be.
In the user interface, you'll be able to see all of the tools and features offered by this piece of software. You can also run it from removable hardware such as USB or external hard drives. The interface is modern and well-organized, so you won't get lost when working with this app.
Disassemble .NET Assemblies
The main function of this tool is to disassemble .NET assemblies on your computer. It's an efficient way of getting to know the code within those assemblies and altering it or simply looking at it to learn or perhaps make some changes.
You can access the tree view of each assembly, which gives you more control.
Conclusion
dnSpy provides a wide variety of handy tools that let you reverse engineer .NET assemblies.