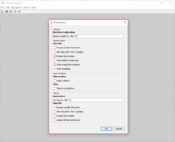 JD-GUI is an excellent Java decompiler produced especially for the programmers who need to save their time and energy decompiling the projects. This software is doing a great job without your help, and you just chose what to decompile and start the action.
A programmer has a lot of work to do when you need to create a project is too important to have all the tools prepared, and of course, you need a third-party software solution. JD-GUI is probably the best application which can help you to decompile and inspect code from an already created application, very useful and saving time.
Today, the programmers are looking to improve their work, and they need useful tools which can save a lot of time and which are easy to use. If we are talking about decompilers, we will find a lot of software for each programmer language, bot for Java, this is probably the best.
Besides it has a great and simple interface, JD-GUI is a portable application. What does it mean? It's simple, being a portable software, you don't need to install it on your computer to profit of all its features, unpack the archive where you want and run the application only in few seconds. The additional files or folders will never be in your computer. You can put it to your HDD, SSD or if you want, to a flash drive storage.
The interface is a simple one, but at the same time, you have all the buttons and information you need to make a perfect decompile. In the top section, you will find default buttons, File, Edit, Navigation, Search and Help. A bit lower, we have the necessary buttons for a decompiler, in the center of the window you will have the code. In the left side, you will find the folders and the files where the code is stored.