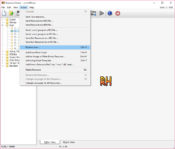 You can examine or extract and analyze the files for different applications on your computer. It is an easy-to-use application designed to explore specific areas of your computer and manage them to generate the best results.
Although it is a requirement of advanced users, the easy-to-use interface makes it possible for beginners to use it. But they must exercise intensive care while using Resource Hacker because the application's misuse can create problems for your computer.
You can open and explore the resource files through icons, folders, icon groups, bitmaps, etc. You can even change the picture's background, delete or name specific resources, edit hex code, and view files through the hexadecimal display.
The primary search function is also enabled in Resource Hacker. You can save your files to .bin .res files. Additionally, the application's prominent features are replacing icons, importing data from text templates, and editing binary resources.
Resource Hacker is lightweight and easy to use when utilizing the computer's resources, so you can easily execute your instructions. It is designed for easy exploration, inspecting, and editing of the resource files of your computer.