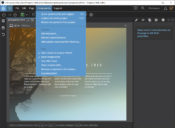 You can design your webpages and alter your sites' design with the drag-and-drop interface using Pinegrow Web Editor, a powerful web design editor.
Editing your websites nowadays doesn't require as much programming knowledge as it used to. Today, it's more about arranging things using the right tools.
There are many different options for creating websites – some are online, while others are software that you can download.
One of them is Pinegrow Web Editor. It's a powerful website editor and arranger that helps you create HTML code, change the arrangement of your sites, alter several pages simultaneously, and create websites from scratch or using the templates inside.
It's a powerful tool that offers both beginners and advanced programmers a lot.
Great for Those with Design Knowledge
Even though the tool is built and made for everyone, it's still more effective if you already have some programming and design knowledge.
It will enable you to profit from using this application fully. Yes, it has a drag-and-drop interface using Lib folders, which lets you easily create and customize your site.
Basic and Advanced Tools
You'll find many tools in these Lib libraries to help you change your site's look and performance. For instance, you'll find useful tools like Grid, Buttons, Text, Images, Anchor, Navigation tools, UI Elements, Code, Forms, and much more among the basic tools.
You can easily add these to your site with the drag-and-drop interface.
Of course, there are also some more complex features inside this application. These include the Actions tab, where you can design exactly what each element does on the site.
You can also use the Prop tab, where you can fine-tune details about each element on your site.
Conclusion
Pinegrow Web Editor lets you customize and create your site from scratch and edit it with basic and advanced editing tools. It's great for both beginners and advanced users.