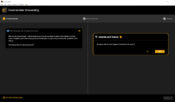 Commandeer is a cloud management tool that helps you to organize a variety of AWS environments, from S3, Lamdba, and Agolia, to IC3, DynamoDB, IAM, SNS, and SQ3.
If you're constantly switching between different AWS cloud environments, it can become very tedious and time-consuming. That's because you need to enter and manage different GUIs, login, log out, and make the switch numerous times. That can be time-consuming, so you need to find a way to become more efficient with your time.
Commandeer represents the perfect opportunity just for that. It allows you to easily switch between these different platforms without wasting time logging in and out of them, and you won't even have to run the cloud from a website.
Improve your Efficiency
It allows you to become much more time-efficient. Because switching between these cloud environments can hinder your workflow and simply waste time, you need to find a way to reduce the time you spend doing that. And Commandeer is the perfect app to stay on top of all the switching you do.
It's a desktop app that gives you integrated access to a variety of consoles and cloud platforms. Switching between them is easy, and it won't require you to run a cloud from a website at all.
Performance-Oriented Console
AWS has improved greatly since Amazon first introduced it. It has been a while, but updates keep coming, so there's an increasing need to adapt to these changes.
This platform is truly one of the best for managing all of your AWS consoles. You can perform tasks such as logging into the console, searching through the console services, scanning regions, running something on LocalStack, or taking different actions – all through this one centralized dashboard.
You can also lookup data in your queues and easily jump between cloud data and local data. You'll be able to track how this affects your data and your resources, too.
Conclusion
Commandeer allows you to stay productive by managing your AWS platforms from one centralized console easily.