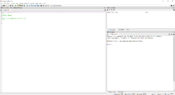 If you need to perform Python/R data science operations on any of your devices, you can use this application. Anaconda Distribution (Python 3.7) can handle the Python/R data science easily. It can help you in downloading more than1500data science packages with convenience. You can efficiently manage the libraries and environments with Conda.
This application can also allow you to train machine learning and other sorts of learning models. Additionally, deep learning models with sci-kit-learn, TensorFlow, and Theano can also be handled. You can manage and analyze data with scalability. Similarly, visualization of data also becomes possible through this software.
Anaconda Distribution can help you perform and manage the Python/R data science operations and machine learning with great ease.