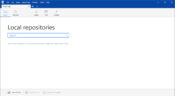 SourceTree has been designed to provide a virtual representation of your repository. You don't have to rely on the command line interface any longer.
It has an easy-to-use interface, but on the other hand, the features that this application offers make it appropriate to be used by advanced users.
This application allows you actually to see the code. Getting all the information about the repository is just a click away. This application is compatible with Works with Git and Mercurial. With this application, you can expect updated information about the GIT status.
This feature enables you to get up to date with the latest work you have performed without having to go through the tiny details.
Some of the other features of this application include the support for big files, the possibility to search the local commits, and the presence of a remote repository manager.
SourceTree is a practical application to manage your repository and visualize all your codes from a single location effortlessly.