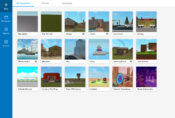 With Roblox Studio, you can build virtual worlds to play in and use your creativity to create a completely new experience with Roblox.
Roblox is one of the most popular games for mobile and computer users. In addition to the funky graphics and style, it has a lot of freedom that players can use to create their worlds and entertain themselves for hours on end. You can build worlds to collect resources, jump over obstacles, and use various survival strategies.
It can be used to create these worlds in Roblox, giving you the freedom you want to have a completely fresh experience with this game. It's appropriate for all platforms where Roblox is available and great for all age groups.
This application has no limitations when it comes to who can use it.
Get Creative
One of the best things about Roblox is that anyone can create a world where other players can join and enjoy their experiences. When you first start Roblox, it might seem to you like a similar game like Minecraft.
However, once you start exploring all the endless options when designing structures and settings, you'll see it's its own game.
With Roblox Studio, you'll need to create an account first to get started. Then, you can create an avatar for your player and get some real estate on the map.
After that, it's time to get creative. You can create anything you'd like inside this interface, from complex structures to new worlds and fun ways to entertain yourself and others.
Intuitive Interface
Moreover, this application is supported by an intuitive interface that helps you get what you're looking for.
It has a quick search option that lets you explore all the elements you can use. You can tap into the huge library of contents to get your stuff done.
Conclusion
Roblox Studio is an app that allows you to design and create your own Roblox worlds and have fun with the game.