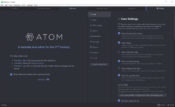 Atom is a powerful and modern source code editor with a handy set of tools for developers, including syntax highlighting, file viewer, and other tools to craft code.
Source code editors are perhaps the most important tool developers will use to code. Notepad++ is probably one of the best, although many developers also gravitate towards Atom, which is seen as a more modern alternative.
It's a versatile tool that will help many different types of developers do their work.
Modern Interface
The first thing you'll notice about this editor is that it has a modern interface with an intuitive layout where you'll instantly access all the tools.
All of them will be available through a tabbed interface where you can open and sort the files you want to work with. You can even open files that contain images, not text only.
You can also preview files that you want to work with, and even those files that contain images and not only text.
It is useful as it will allow you to work with a wide variety of files, which is great when you are a developer.
Advanced Tools
When you use Atom, you'll see that it has all the basic ingredients needed for a source code editor. You can easily edit text and manage source code.
You can also edit the application when you go to developer mode, and there are also other editing and modification tools that you can use.
The developer mode is tidy and useful for anyone who wants to make more notable changes to the applications they're working with.
You may also create new modules and improve the functionality of an app you're working on, and all is achievable in Atom. It has some powerful features that will also help you with advanced coding.
Conclusion
Atom is a great source code editor to help you edit your files and applications and make advanced modifications.