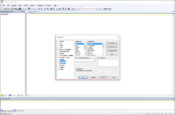 Are you stuck with the extra features that most of the editing tools and applications installed on your computer provide? You can't manage the real editing work with these applications. To provide a solution to this problem, TextPad can be used as an alternative.
You can edit any of your documents, whether web page content or a general letter, using this editor. You won't have to waste your time understanding the unnecessary features and then adjust your documents according to your needs. The plain text can be written or edited depending upon your needs.
It is quite easy to use and serves the purpose efficiently for which it has been created. It is powerful enough to help you edit all your documents without slowing down the speed with which you can make changes.
TextPad is an alternative for making changes to the documents when you only require basic editing features.