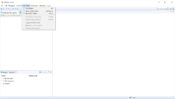 DBeaver is an application which works as a database manager for software developers. Some of the databases that are supported include MySQL, PostgreSQL, MariaDB, SQLite, Oracle, DB2, SQL Server, Sybase, MS Access, Teradata, Firebird, and Derby. All these platforms are included in the the application, thus making it easier for you to work. Apart from developers, analyst and database administrators can also use this application.
With DBeaver, you can have two views of the database, i.e., text and grid. Moreover, column search is an added feature that you can now get through it.
The interface of the application is simple to use for the users who are aware of the working of the database, but for the beginners, it might take some time to understand the interface and the functioning of the application.
Transaction logs can be accessed through this application, making it easier to track the activities and managing them. Constant upgrades in the DBeaver are provided to make it work better and in an efficient manner.
DBeaver is a database management tool that can enable you to work efficiently in different databases available.