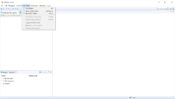 DBeaver is a robust and powerful database manager that enables you to work with multiple tables, scripts, and triggers and comes in handy for DBAs.
It will primarily appeal to developers and database managers looking for a powerful tool to manage databases. It's especially effective for managing and organizing tables, triggers, and stored procedures.
You can use multiple databases at the same time and also use different types of databases at the same time.
Manage Databases
The primary thing this application lets you do is manage various databases. When you first install and launch this application, you'll see that it will first scan your computer to find any potential existing connections – if there are any. But you can also make new connections from scratch too.
To create a new connection, you need to open the right option you want to use, select the database you want to work with, and set the login credentials.
After this, you can also choose to display the ODBC drivers. Then, you'll find a list of databases available for the connection. You can access almost any project or database part you want.
Supports Different Database Types
Another great thing that most developers will love about this application is that it supports various database types.
It allows you to work with various platforms such as MySQL, SQLite, PostgreSQL, Oracle, Microsoft SQL Server, IBM DB2, Firebird, and others. It makes it useful for a wide variety of users.
You'll be able to access a powerful and intuitive SQL editor with all the wanted controls inside. You can quickly edit and execute scripts or queries with it, too. You can also load an existing SQL script and work with it too.
It has many basic and advanced options that developers and database managers like.
Conclusion
DBeaver is a powerful application that will let you handle and manage your databases of different types. We think it's a great app for beginners and advanced database managers.