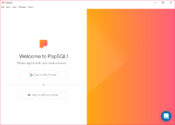 PopSQL is a versatile SQL management tool enabling you to work and collaborate on multiple database management tasks simultaneously.
Database management and visualization are crucial to keeping your data organized and secure. But to do that, SQL is one of the most powerful languages you can use. But at the same time, you'll need a good piece of software to help you get the most out of SQL.
It is one of those applications that will enable you to manage multiple databases simultaneously.
Simple to Use and Works with Different Databases
The great thing about PopSQL is its simplistic interface, making it easy even for less skilled users to use it efficiently. The great thing about it is that it will work with most databases, including Microsoft SQL, MySQL, Redshift, Cassandra, MemSQL, BigQuery, etc.
Installing this application should be easy enough for almost anyone to manage. It's a largely automated process that should not be too complicated for anyone.
There's also a small login procedure where you can have your account ready, although you can also use your Google account to sign in.
The autocomplete feature can help you fill column names and tables quickly. The search option, table preview, SSH tunnel support, and keyword shortcuts are some other features you will enjoy with this app.
Collaborate and More Projects
This application makes it easy for users to collaborate and work on multiple projects simultaneously. You'll be able to work on various databases simultaneously, which might not be available in every SQL management tool.
But this makes it appropriate, especially for beginners and those still learning the ropes of database management.
You'll see that the workflow inside this app will look closely like that inside Google Docs. It is great because it allows beginners to get into it quickly.
Everything is nicely designed and thought out, especially the collaborations you can use with this tool. The autocomplete feature also makes it easy and saves time.
Conclusion
PopSQL is a great SQL management tool that will help you manage multiple databases simultaneously, as well as some other user-friendly features.