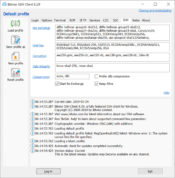 Bitvise SSH Client is an SSH client that features integrated FTP to SFTP bridge while providing support for TCP/IP tunneling and additional features like restarting transfers, directory listing, and more.
When setting up a working environment, SSH is one of the most common clients people use. While it might be a bit more complicated for true beginners to use, it also provides users with additional functions that you might not be able to find elsewhere. It's still a popular client that many people use, though.
It is one of the most popular SSH clients that many people use, and it's the equivalent of PuTTY when setting up a working environment.
Clear and Simple Interface
A designed interface is essential when you work with a client like this. The good thing about Bitvise SSH Client is that it does well in this category. If you're used to working with clients like this, you won't find any major surprises in the interface.
And yes, it's also great if you know your way around similar tools but you've never used this particular client before.
Feature-Packed SSH Client
It packs some advanced and powerful features inside its interface. It has an integrated terminal emulation built into its interface if you prefer a text-based environment. There are also authentication tools available inside the interface.
Other advanced features include SSH port forwarding, command line parameters, and more.
You'll find everything you need to use if you want more advanced tools at your disposal and all the basic tools you'd expect from a tool like this.
Conclusion
Bitvise SSH Client is an advanced SSH client that provides you with all the basic and advanced features for managing SSH connections and making the most out of them.