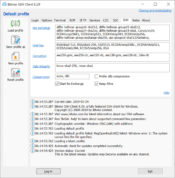 Bitvise SSH Client is coming with a specific, clear and user-friendly interface. It is very well structured, you always know where to input the password, the username, IPs and other information you need to have a secure connection. Everything is very well defined, even if Bitvise isn't a popular software application. Other SSH clients are coming with boring and old-school interfaces.
Bitvise SSH Client can create an SFTP server connection with a regular FTP client. To deliver the necessary information and to keep the security at a high level, the SFTP connection is tunneled to SSH.
This software can't be used by everyone; you need to have an advanced level of IT skills. Bitvise SSH Client can't be compared with other similar programs. The others are drawing a thick line between the actions and looks, while our software always tries to blend and created the best experience for the users.
The traditional window provides you the simplicity and intuitive actions. There are only the essential tabs like Login, Options, Terminal, Remote Desktop and more.
On the left side, you will find two buttons: Load Profile and Save Profile As. These shortcuts are perfect for simplifying your job, save a favorite connection and load it when you have to modify something. Bitvise SSH Client will remember the passwords, the username, and the addresses for a specified connection.
If you need to initiate a remote connection with your office desktop from your home computer, create a profile for it and start the connection. It's pretty simple to work with Bitvise SSH Client if you have some it knowledge, to understand some information which always appears in the terminal.
Let's think you need a remote desktop connection, and you will be able to pre-modify some options like screen sizes, the permission of your connected user or the possibility to make the remoting connection public.
Bitvise SSH Client is an excellent remote connection client, and it's coming with a lot of useful tools which are integrated for your disposal and keeping the security level very strong.