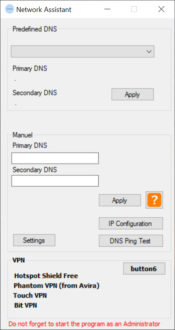 Network Assistant is a utility that helps users to improve the quality of the Internet connection and, by default, the transfer speed by modifying the DNS servers. Depending on where the user is located, the response time may be better for one DNS server or another.
Cloudflare might have better response times in Europe, while Google, for example, might be better in the United States.
The interface is straightforward to use. You can opt for six DNS services: Google, Cloudflare, Open DNS, Yandex, Level 3, and Comodo Secure. Before choosing the right service, we recommend using the DNS Ping Test option to check which service has the shortest response time.
After selecting the DNS server, press the Apply button, and that's all.
Network Assistant is a simple application that enhances your internet browsing experience.